Heavenly Koraput Tour
November 21, 2019

-

November 23, 2019
No. of Days Tour/Duration in Hours : 03 Days 2 Nights Tour, 72 hours (excl journey time from BBSR to Koraput & back).
Report on: 20th November 2019 at 6.30* PM at Baramunda Bus Stand (exact departure timing of bus to be communicated beforehand)
Actual Tour Days (excl travelling to Koraput & back): 21st – 23rd Nov (Thu – Sat). Leave BBSR by 20th Nov (Wed) evening & reach back on 24th Nov (Sun) by morning 8AM.
Special Introductory Price: For Charges per head, contact both via mail to infoaitiha@gmail,com & whatsapp@9861288166. Our charges shall include logistics from BBSR to Koraput & back, sight seeing in Koraput, breakfast, lunch, refreshment, dinner at Koraput site, hotel stay, but excl water bottles facility. Do mention your preference for veg or non-veg lunch & dinner (try to keep the same for all 3 days)
Registration & payment open till 20th Oct 2019. Limited seats on first come first service basis.
For registration & payment, please use/click on the link .. http://aitiha.com/event-registration/ & choose Heavenly Koraput Tour from the drop down options available.
Sites Planned For Tour:
Day I (21st Nov Thu): Onukadeli Bonda Market (Thur), Duduma Water Falls, Desia Eco-Cottage & Upper Kolab Dam
Day II (22nd Nov Fri): Deomali Hilltop, Kundul Weekly Market (Fri), Subei Jain site, Nandapur 32 Singhasan, Rani Duduma Water Falls & Sunabeda Aeronautics Museum
Day III (23rd Nov Sat): Gupteswar, Patraput British Bridge, Jeypore Town, Koraput Coffee Garden, Koraput Tribal Museum & Sabara Srikhetra (Jagannath Temple)
Duduma Watefalls – the king of waterfalls in Koraput
Desia Eco-cottage, Lamtaput (PC-Ajaya Nanda)
Deomali hills will take your breathe away !
Nandapur's 32 Singhasan is a must
Surya Mahal, Jeypore
Jagannath Sagar – the biggest pond in Odisha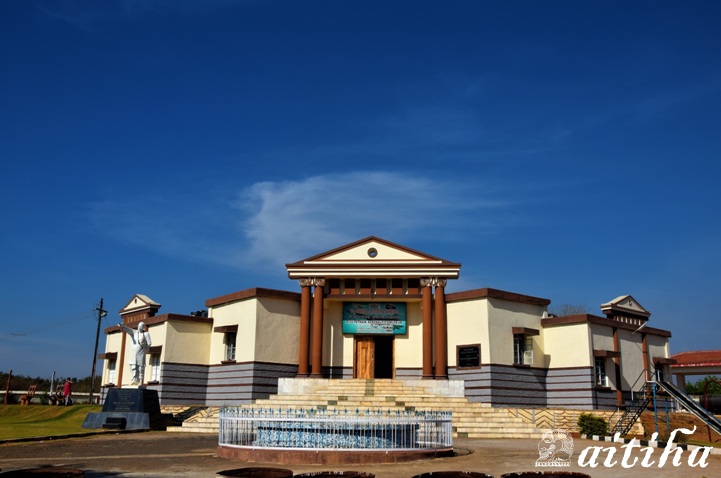 Aeronautical Museum at Sunabeda
Cheerful Indigenous Tribes (PC-Ajaya Nanda)
British era suspension bridge at Patraput
Guidelines for 3 Days 2 Nights Tour of Koraput:
Our travelling for Koraput tour will commence from Bhubaneswar on 20th Nov (Wed) evening & reach back at Bhubaneswar on 24th Nov (Sun) morning only. That means the three touring days will be from 21st Nov morning to 23rd Nov evening.
The public passenger bus used by us for travelling from Bhubaneswar to Koraput & back will be of standard AC bus with 2+1 push back seating facility. Please have your dinner beforehand & take your allotted seats on time at Baramunda Bus Stand. You are requested to travel light so that its easy for your movement since you need to carry your own luggage. *Exact departure timing of bus to be communicated beforehand based on which you are required to report at Baramunda Bus Stand. Please avoid boarding on the way, its better all move from a single point for better communication & coordination.
There is a single introductory rate of 9499/- for this tour. If in case anyone registered customer wants to travel to & fro on his/her own arrangement, he/she can do so at own cost, but needs to be at Koraput Town* on 21st Nov morning by the time our team reaches there (around 6 AM). There is no refunds if someone wants to discontinue halfway or for own travel arrangements.
Site visit depends on the movement at particular sites by tourists & the travelling time by vehicle from one location to another during the day. Certain sites may have specific opening & closing hours. Its advisable not to stay for more time at one location so that the next location is not missed out.
Since, some of the sites may have uneven terrain, tourists are requested to carry trekking stick, umbrella/cap, wear sports shoes & comfortable clothes. The climate during November will be chilly winter, hence you may need to carry your warm clothes.
Our Koraput tour itinerary does not includes water bottle facilities. Hence, tourists are requested to carry their own bottles, fill it up at cottage & at sites or buy at locations while moving.
The hotel is of average quality with standard AC rooms & has only basic lodging facility. Breakfast & dinner to be consumed outside as per vehicle movement & overall convenience. Rooms shall be allotted on twin sharing basis, preferably separate for ladies & gents. However, families maybe allowed to take single rooms. If anyone wants to acquire a single room alone, he/she can take it at additional cost*, provided its intimated to organizer on time before registration & there is vacant room available.
For sightseeing at Koraput, Mahindra Bolero (7-9 seater) type is assured, we may upgrade to a mid segment vehicle (if available) or take two vehicles provided registrations are on time & in good numbers.
This is just a short information for new browsers. anything further needed shall be intimated in time to customers on time. For further queries, please mail us at info@aitiha.com, infoaitiha@gmail.com or whatsapp us at 9861288166
For further details on our Terms & Conditions & Privacy Policy, please click on the link below :- http://aitiha.com/terms-conditions/ , http://aitiha.com/privacy-policy-2/