Udayagiri – one of the caves among the twin hills in Bhubaneswar, is quite known for its earliest caves & motifs, mostly used as dwelling place by the Jain ascetics. It's visited by tourists, travellers , students, researchers & round the year there is quite good number of footfalls. But, very few are aware of the fact that it's a treasure house of earliest inscriptions in Odisha. And, when the topic on inscription comes, we immediately puts our attention & eyes on the temples & its murals for tracing a possible inscription & trying to decipher it. But, we never focus on the couple of caves & rock shelters where there is possibility of inscriptions. Coming to inscription, it's is a short text engraved preferably on stone, terracotta, metal like copper or even on wooden surface. It's displayed near the monument or objects and has relation with it. Inscription serves as ready & valid data reference and supplies a great deal of information. And, epigraphy is the study of inscriptions.
There are some heritage sites with inscriptions in Bhubaneswar, but mostly restricted to temples. Hence, Udayagiri was deliberately chosen as the site for Aitiha's second trial run (after sahasralinga) with the murals & texts at caves. The twin hills of Khandagiri & Udayagiri were made in the 1st century BC during the reign of Samrat Kharabela. The caves, some naturally while others mostly man-made, were used by the Jain monks for their dwelling & shelter during their travel. The twin hills originally had 117 caves, out of which only 33 are now accessible, 15 at Khandagiri & 18 at Udayagiri. Twin hills for a possible heritage trail was the obvious choice- both hills have inscriptions, but Udayagiri has more of it & the caves look more finished & better maintained. We have many a times visited the twin hills, but mostly on random basis. Never thought of a walk with a specific plan & when the theme was suggested by one of our co-founder, it immediately created buzz among heritage enthusiasts in social media.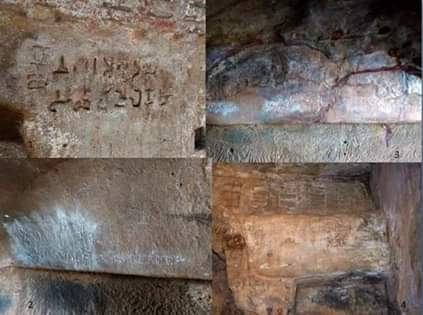 On a cool Sunday morning, Team Aitiha gathered up at the entry gate of Udayagiri (meaning Sunrise Hills), which stands at the right side of the twin hills, at around 6.30 AM. By 6.45 we were in after collecting our respective entry tickets from the nearby ASI ticket counter. Without further delay, the walk was on, starting with 8 walkers. There were mostly new faces in comparison with the previous trail walk titled "Search for Sahasralingas', but all were quite known faces as heritage lovers like before. We took the starting route from right side of entry gate passing through the Chota Hathi Gumpha & Baja Ghara Gumpha. Our first major stop was the majestic two-storeyed Rani Gumpha caves. We enjoyed having a glimpse of the mural, beautiful toranas and sharing knowledge. Soon we were joined by two more walkers while we were moving towards the upper floor of Rani Gumpha where the life story of Samrat Kharabela was partially created in the cave corridors along with the hunting, battle & elephant clash scene with humans depicted. Thereafter we took a hairpin turn towards the elegant looking Ganesha Gumpha. We were quite delighted on catching a glimpse of the first inscription what we came across here. The inscription was in 5 lines in Brahmi script inside the Ganesha Gumpha.
Thereafter, we moved on to the top of Udayagiri hills where one can view the growing Bhubaneswar city alongwith its busy airport. The top has an apsidal Chaitya in laterite stone, maybe used by the Buddhist Monks. The other side of the hill i.e Khandagiri hill with its set of caves & Digambar Jain Temple was looking lovely in the light foggy morning atmosphere from Udayagiri side. We descended downwards n the other side & on the way, we came across Byaghra Gumpha (Tiger cave) with a inscription. The cave looks quite different from the rest of caves for its mouth resembling a tiger's mouth. One of out walker noticed a lizard mural inside. Upon reaching Jambeswar Gumpha, we were double delighted because we sighted one more inscription, adding the total to three. The inscription tells that it's the cave of Nayaki/Nakiya, wife of Mahamade. Thereafter we passed through some gumphas on the right side including the Haridasa cave, which has inscription, before turning towards Sarpa Gumpha (Snake cave) with two inscriptions, which can be easily identified with the three headed snake mural on its top. Incidentally, the staircase & the minor caves adjacent to it is the ideal place for taking group image & we took no time to take our turn.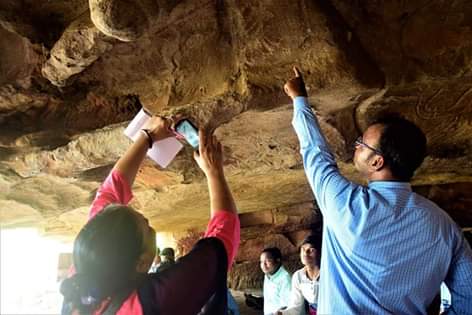 Finally, it was the turn for the naturally made Hathigumpha Cave (Elephant Cave), the best inscription cave at Udayagiri, hence reserved for the last lap of our walk. This cave is known for its majestic size like that of an elephant, hence Hathigumpha. But our interest was in observing the Kharabela's & other minor inscriptions, rock cut art & symbols there. The Hathigumpha inscription created by Kharavela is the only source of info on him. It's the biggest inscription & a gem for epigraphy studies. There are altogether 17 lines I it mentioning his 13 years of achievement, restoration work of fort, fatherhood, Bharatbarsha term (used for the first time in pan India), attack on Magadha etc. The most unusual aspect is the direction of the inscription facing Dhauli. It's said that Samrat Kharabela did it intentionally to avenge Kalinga's defeat at the hands of Ashoka who had created the Dhauli edicts & Kharabela's subsequent revenge on Magadha. Interestingly, Khandagiri & Udayagiri hills are higher in height than Dhauli & are mentioned as Kumari Parbata in the inscription. On both the sides of inscription, there are certain symbols noticed resembling swastika & triratna, used as a mark of start & end of the inscriptional text. Originally, Hathigumpha was a prehistoric rock art shelter as noticed by the rock engravings & paintings on the ceiling. It was chiseled a bit to make space for more & create the inscription. The Manchapuri & Swargapuri Gumphas were among the last set of caves, we visited which has good reliefs on the cave walls. It has at least three inscriptions talking of one queen among the two and also about Kudepasiri, successor of Kharabela.
One question that always strike our mind is that how these caves with ornamentation were made at that time since certain murals & images were not finely made but roughly made with crude tools, like that of the two elephants at Ganesha Gumpha. And, most importantly how these caves were assigned named. Maybe it's based on deciphered data by ASI or local names existing during the documentation or both. These caves are well maintained, yet it needs to be barricaded to save it from human intervention & vandalism. Some of the dwarapalas with armour are quite distinct from the rest. The barefooted ones with spear are said to be Indians while the others with gun boots & thick sword looks like that of foreign (Jabana) origin, say Greek. Yet, we came across at least a third kind, which is a hybrid. Some symbols were noticed like swastika which is said to be the first ever instance of its usage in monument sites in India. Triratna is a quite interesting symbol which tells about the three right steps. The overall trail titled "Inscription Trail of Udayagiri" was quite interesting & out of around 18 inscriptions, we could manage to see at least 15 which is a good score. Soon after the two trial runs, Aitiha as a startup was announced with at least one monthly visit to a lesser known site(s) in Odisha.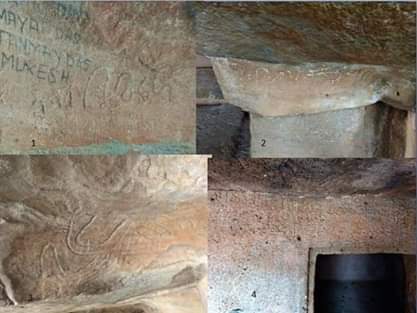 "And in the second year (he), disregarding Satakamini, dispatches to the western regions an army strong in cavalry, elephants, infantry (nara) and chariots (ratha) and by that army having reached the Kanha-bemna, he throws the city of the Musikas into consternation."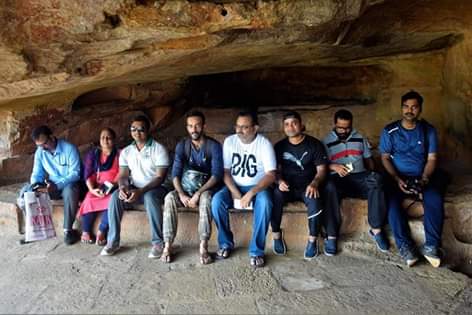 Photos: Taranisen Pattnaik
©2020 All Rights Reserved. info@aitiha.com