Satkosia Cruise Tour
November 28, 2021
Rs2499
Satkosia (meaning seven kosas or 14 miles) is an absolute delight for nature lovers. It is home to two of the most endangered species of crocodiles—the Mugger and Gharial. And, among the endangered birds species, Indian Skimmers are sighted here in good quantity. Thanks to Odisha Tourism's efforts, recently it has turned out to be a popular tourist circuit for landscape photographers, wildlife enthusiasts & general tourists. It can be approached from various sides like Angul, Nayagarh (Badmul), Boudh & Cuttack (Narasinghpur) side. The main attraction is the river cruise in the mighty & magnificent Mahanadi & enjoying the breathtaking view of the enigmatic Satkosia Gorge.
Tour Date: 28th Nov 2021 (Sunday)
Pickup Point: TTD Kalyan Mandap, Jaydev Vihar Sq, Bhubaneswar
Report By: 6.15AM
Duration: 14 hours (6.30 AM – 08.30 PM)
Distance to be covered: Around 200 km & back
Charges per head: INR 2499/-* (inclusive of cab rentals, guide fees, veg breakfast, veg lunch at Hill View Resort, boating facilities, one water bottle, toll fees & tea at evening etc)
For registration, click http://aitiha.com/event-registration/
Sites to visit: Satkosia via Kamaladiha (Narasinghpur) with boat cruising on Mahanadi, jungle trek. If time permits, shall touch Maa Bhattarika or Champeswar Temple. Registration & payment are open till 6 PM of 26th Nov 2021. Limited seats on a first-come-first-served basis.
(Indicative images of Satkosia)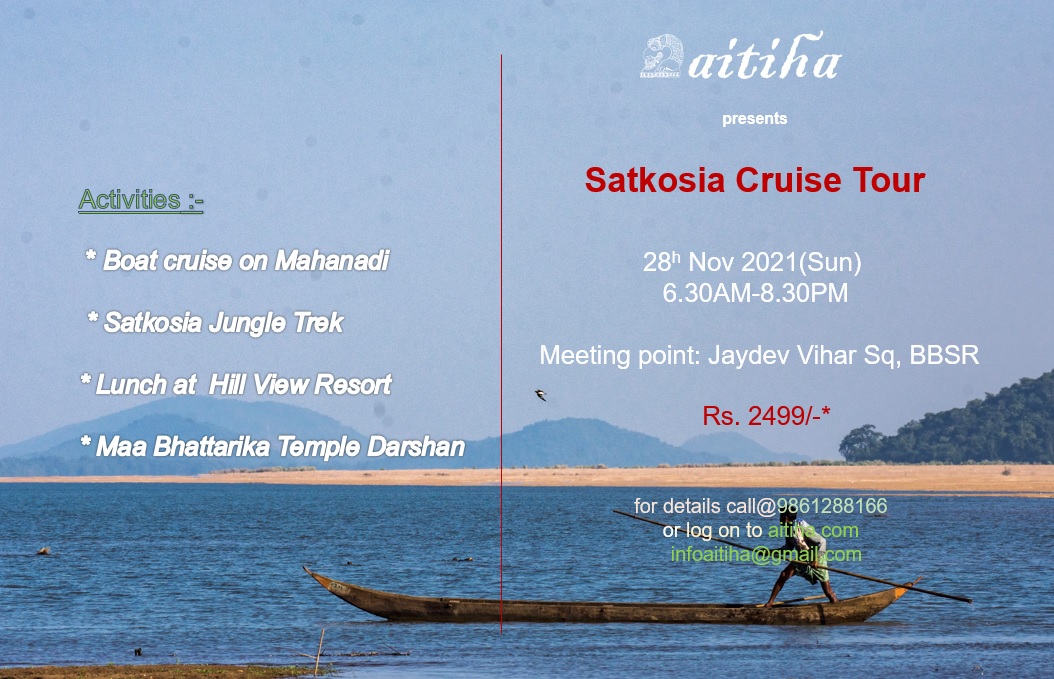 For registration & payment, please use/click on the link .. http://aitiha.com/event-registration/ & choose Satkosia Cruise Tour from the drop-down options available.
Guidelines for this tour –
Registration & payment for Satkosia Cruise Tour closes at least 07 days before the actual tour day so that the govt boat can be arranged on time or else country boats are there. You have to pay online in full through our portal's event registration page.
Your registration automatically confirms your acknowledgment of our Terms & Conditions, Do's & Don'ts & Privacy Policy. Our tours will be of limited seats only, hence book early
We shall move in a standard AC vehicle on sharing basis to Satkosia. However, if any participant wishes, he/she can opt for 'Bring Your Own Vehicle' (BYOV) option at their own cost, but need to follow the pilot vehicle of Team Aitiha. Participants are required to use face mask, carry their sanitizer & maintain social distancing at public places.
Our usual route shall be through Jaydev Vihar Sq>>Mundali Bridge>>Athagada>> Badamba>> Narasinghpur>>Kamaladiha>>Satkosia
Wear comfortable clothes as per climate & wear xportts shoes since jungle trekking is planned. Please carry your essentials with you which may include any medicine, umbrella/cap & others. Since breakfast & lunch shall be standard veg food as available locally en route, participants who wish can carry their own veg food. Please respect the rules of places of worship, respect the locals & act accordingly. Keep your mobile in silent mode wherever needed. If photography is not allowed in any site partially or fully, don't try to take it.
In case of any further queries, you may contact us via email at infoaitiha@gmail.com or WhatsApp us at 9861288166
For further details on our Terms & Conditions & Privacy Policy, please click on the link below :- http://aitiha.com/terms-conditions/ , http://aitiha.com/privacy-policy-2/