Koraput Tribal Tour
June 8 @ 7:00 am

-

June 10 @ 5:00 pm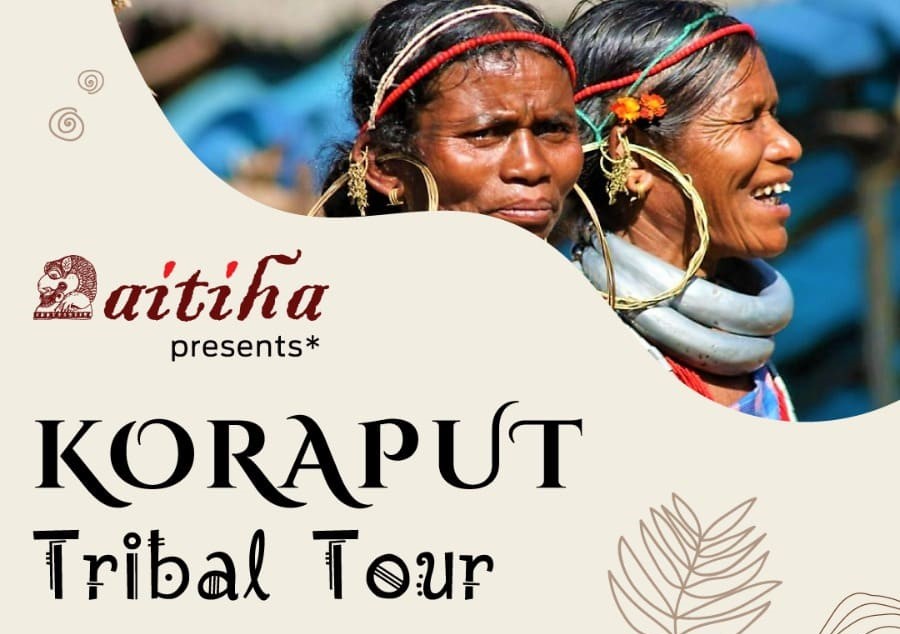 No. of Days Tour/Duration in Hours : 03 Days 2 Nights Tour, 72 hours in Koraput dist
Actual Tour Days (excl travelling to Koraput dist & back): 8th – 10th June (Thu – Sat)
Tour Charges: For Charges per head, contact both via mail to infoaitiha@gmail.com & whatsapp@9861288166. Our charges are limited to sightseeing in Koraput dist, breakfast, lunch, refreshment, dinner, tour guide charges, tribal village walk charges, camp/dorm stay at resort on twin sharing basis etc. but excludes water bottles expenses. Do mention your preference for veg or non-veg lunch & dinner (try to keep the same for all the 3 days).
Our tour charges doesn't includes your travelling expenses from your city to Jeypore Town & back. You need to choose travelling facilities between bus, train, air travel, rented cab etc & make reservations accordingly, keeping in mind the travelling time & our tour dates. Its best suggested to travel in group from Bhubaneswar in a single mode if no direct facilities are available from your city or if there's timing issues. The food & other expenses while you travel to Jeypore & back are all yours.
Facilities at Resort – Camp & dorm stay at newly built resort with star gazing at night, angling, bonfire, wi-fi enabled resort, 24 hours power supply with backup facilities, cafeteria, live kitchen with lip smacking veg & non-veg items prepared, complimentary veg breakfast, enjoy cool breeze near the pond, short trekking to hilltop etc to name a few
Registration & payment open till 28th May 2023 (Sun). Limited seats on first come first service basis.
For registration & payment, please use/click on the link .. http://aitiha.com/event-registration/ & choose Koraput Tribal Tour from the drop-down options available.
Day wise Itineraries of Koraput Tribal Tour : Plz get in touch with us for details via whatsapp @9861288166 or mail us at infoaitiha@gmail.com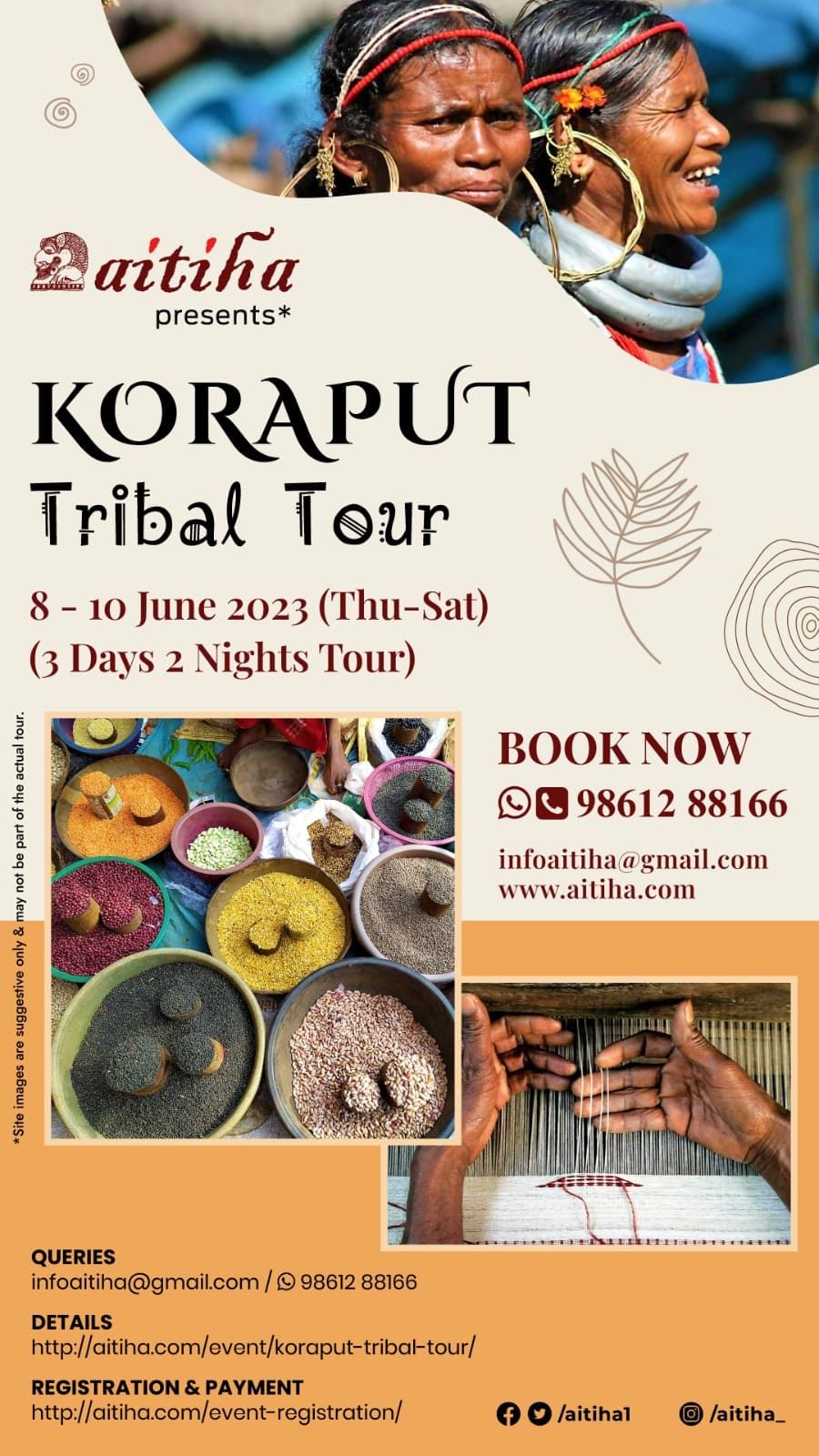 Guidelines for 3 Days 2 Nights Tour of Koraput:
Our three touring days will be from 8th June 2023 morning to 10th June evening. You are requested to travel light so that its easy for your movement since you need to carry your own luggage & take care of its safety.
There is a single tour charges for this tour from our side. You need to travel to & fro on your own arrangement cost, but you need to be at Jeypore Town on tour starting day i.e 8th June morning by the time our tour commences. There are no refunds if someone wants to cancel the tour before start, discontinue halfway or go for own travel arrangements. Any additional & incidental expenses shall be borne by participants equally. Personal expenses are obviously yours.
Site visit depends on the movement at particular site(s) by participants & the travelling time by vehicle from one location to another during the day. Certain sites may have specific opening & closing hours. It's advisable to go by the tour guide's instructions & not to stay for more time beyond allotted at one location so that the next location is not missed out. And you have bear with the sudden change in climate.
Since, some of the sites may have uneven terrain, tourists are requested to carry trekking stick, umbrella/cap, wear sports shoes & comfortable clothes. The climate during June will be mild humid of around 30* C, hence carry your clothes accordingly. There might be sudden downpour too, hence be ready experience it. Cameras, drones & binoculars are most welcome.
Our Koraput tour itinerary does not includes water bottle facilities. Hence, tourists are requested to carry their own bottles, fill it up at cottage & at sites or buy at locations while moving. We expect our guests not to litter the nature sites with plastic & other disposables
The tented camp facilities on twin sharing basis is of average quality, but will give you a different experience staying under the stars inside the resort campus. There's also dorms facilities at resort which we may opt & we expect full support from you. If anyone wants to acquire a single camp, he/she can take it at additional cost*, provided its intimated to organizer on time before registration & there is vacancy available.
For sightseeing at Koraput, standard vehicle like Mahindra Bolero (AC 7-9 seater) type is assured, provided registrations are on time & in good number. An experienced local tour guide shall accompany us during the tour which will help us to understand the tribal people & their culture better. You are expected to respect the tribal & behave in a civilised manner while mingling with them.
Minimum head count bookings are required to commence the tour, hence pay early so that your seat is assured & you can arrange for you travelling reservations in trains/buses etc. Carry your ID copy with you like aadhaar card photocopy & save the original card's scanned copy (front & back) in your mobile phone/mail. If there's sudden change in climate & the tour gets affected, we shall not be held responsible which is beyond our hands.
This is just a short information for new browsers. anything further needed shall be intimated to participants on time. For further queries, please mail us at info@aitiha.com, infoaitiha@gmail.com or whatsapp us at 9861288166
For further details on our Terms & Conditions & Privacy Policy, please click on the link below :- http://aitiha.com/terms-conditions/ , http://aitiha.com/privacy-policy-2/
Images Courtesy: Rohit M & Team Aitiha
Note: Customised Koraput tour can be arranged as per your preferred dates. Min head count – 04, tour days 03-05. Please mail us with your enquiries to infoaitiha@gmail.com